Visual System – To see is to believe
Seeing is definitely believing and we have our visual system to thank for all that. When you open your eyelids in the morning you could see everything around in your room, your television set, your posters and pictures on your wall or mother or father looking at you and asking you get up and get ready. Our visual system it makes it possible for us to see the beauty around us. Your eyes, which is the main structure of the visual system, is the structure that gives us the power to focus on objects whether they be far or near.
When we start feeling sad, tears are naturally produced in our ocular area for the protection of this system. Our eyes help us get a view of the things around us so that we can interpret it into images. The human visual system gives us the ability to see various colors, shapes, movements, people and everything else possible around your house, work or school. Like the auditory system, our eyes send nerve signals to our brain for it to be processed so that we know what's going outside of our bodies. With the eyes' amazing key roles, it's a shame on not learning about the parts of the entire human visual system and what makes the whole system work. So let's go ahead and take the time to get the scoop about our visual pathways.
If we take a moment and look in the mirror and take a look at our own eye we could see two eye ball sockets, two eye lids, eyelashes on the upper rim of our eyelids, a large white portion of our eye with a colored round portion in the middle of that white background (which is the color that is different from person to person depending on your eye color) and if you look closely you could see a black round dot in the middle of that colored portion of your eye (it varies in shape depending on how close you are to light or if it is dark in your environment).
We don't have to think about blinking, which is important for our visual system because our body does it automatically. Our eyeball sockets keep our eyeballs in shape so it doesn't dangle all over the place while our eye lids protect our eye's anterior portion. The reason for our eyelids blinking is to keep our eyes clean and moist. Our eyelashes aren't just to make a person look beautiful; their actual purpose is to protect our eyes. Without our eyelashes, dust and air pollutants could easily get inside our visual system.
Since we've talked about the outer section of our visual system, (which is the easiest to identify), let's go into the internal structure and what those parts are really called.
The biggest portion of the eye that is white is called "sclera." This is the protective covering and is made out of sturdy material. You will notice in the white portion of your eye there are tiny red little blood vessels and these vessels deliver the right amount of blood to the sclera so it is provided with the right circulation and nutrients that it needs to function correctly.
The "cornea" which is a translucent dome that sits in the anterior part of our iris (the colored part of the eye). Which is the structure that helps our eyes focus as light is passing through.
The "iris", is the part of our eye system that has color. A person's iris color varies from person to person depending on what nationality they are and what color their parent's irises are. For example, a person that came from parents of American decent could possibly have blue eyes, greenish-blue eyes and/or hazel eyes. A person that has Asian parents could have dark brown eyes and/or black eyes. This is the muscle that changes in shape since the iris is the structure that controls the amount of the light that goes through the pupil.
The "pupil" is the black round dot in the middle of your iris. This is the opening of the iris and it allows light to enter. To see how our pupil really work try this out, take a small flashlight and at the outer corner of your eye socket turn on the flashlight and move it a little towards the front part of your eye (make sure you don't shine it directly into your pupil for it could damage it), you could notice that our pupils dilate or gets big ger in shape as the light is away from the pupil because it needs to open up to gather light and as you move slowly towards the center of your pupil they slowly start to decrease in size because it'll take less effort to absorb light into them.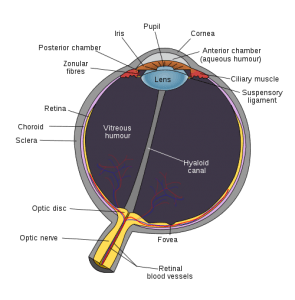 Our visual system also has an "anterior chamber" that is the space in between the cornea and iris that holds transparent liquid that gives nourishment to our eyes. As the light approaches and hits the pupils it then reaches the lenses. Yes, just like cameras this system also has special lenses. These lenses sit behind the iris. The lenses of our eyes have the responsibility to focus the light rays at the back of the eyeball called "retina."
The retina contains millions and millions of cells that are quite sensitive to light. The key role of the retina is to take the light that our eyes receive from way in the beginning of the process and convert it to nerve signals in which it sends it to the brain to interpret the images that we see. It takes less than half a second or less to convert those nerve signals into images. The retina contains the "rods" and the "cones" that help in processing light. Surprisingly, there are around 100 million rods and 5 million cones in each eye. Rods see in black and white and also shades of grey and give us the shape of an object that we're looking at. They can't see the difference in color but they are sensitive enough to see when it's dark. The cones on the other hand, is the pathway that see in color and they are helpful when it's really bright outside.
Let's get a little deeper into the structures in this system that aren't discussed all too much. The "ciliary muscle" changes the shape of the lens depending on how far or how near an object you're looking at is. Just like glasses with lenses that you have made at your eye doctors (also called, optometrist) office of clinics, this system has its naturally built in lenses that thicken you need to see something up close and becomes thinner once an object is farther away.
The "lacrimal glands" which is cited above the outer section of the eye is the reason our tears are produced. This is also used as protection for our eye system to keep away dust and germs that could damage it. Tears also keep our eyes from actually drying out. I'm pretty sure that you're familiar with this semi-sticky substance in the inner corner of your eye when you first wakeup in the morning. It's termed as "morning glory" which is tears that have been washed away in your "lacrimal duct" or tear ducts and formed a jelly-like substance.
Your visual system is a quite delicate and need to be protected so that you don't damage it and cause problems to your ocular system.
Here are a few tips in taking care of your precious visual system:
make sure to use protective eye wear when there is a possibility that certain toxic chemicals can get in them, when playing sports also have eye wear that could guard your eyes from quick movements and shoves, wear UV sunglasses because too much light can damage you in the long run and cause visual problems.
In general, eating a balanced diet is important not only for the visual system but also for all the other systems in our body.
If you wear contact lenses, don't wear it more than 19 hours because it could further damage your system and cause discomfort to your eyes.
Don't spend too much time staring at one thing for a long time such as your computer or television.
If it's dark inside your room, don't read with dim light because it makes it harder for your eyes to focus.
There are available natural remedies in keeping your eyes in great shape. There are ailments that could create problems for our eyes which could be prevented or treated with natural remedies. Natural remedies could help out with your eye system problems without spending too much on the treatments.
Be nice to your visual system because you'll need them for the rest of your life. How else can you experience the beauty around you without actually seeing it? So keep your visual system safe, protected and healthy.