Integumentary System: The inside story of our skin
Let's go skin deep and find out all about our integumentary system! Here's a really quick question… From your understanding way back in high school and/or college, what is the largest organ in your body?
You might actually be surprised to know that it's our skin which is also known as the integumentary system! With the skin being the largest organ in the body, it is no doubt that conditions affecting it can make an individual's self-esteem go way down. Besides the psychological symptoms, physical symptoms can also disturb a person's everyday lifestyle. There are numerous ailments that involve our skin system, but before we start off with the specific conditions, let's have a brief, easy to understand health lesson about our integumentary system.
Our skin weighs between 6 to 9 pounds and covering a whopping eighteen square feet on an average sized adult. This system is a shield that separates what is inside your body from what is outside. Just like in our visual system, which the eyelids are the shield for the eyes to protect it from foreign matter, the skin protects the entire body. Imagine not having skin, we'd see people walking around with muscles, bones and organs dangling out all over the place. Not exactly a pretty sight you'd like to see every day. Our skin system is pretty much a natural barrier in protecting us from bacteria and viruses (pathogens) that could get us ill. It also protects us from losing too much water that could cause dehydration. This system doesn't just serve as a biological protector, it also insulates, regulates temperature and causes us to have sensation (contains numerous nerve endings that can determine cold and warm, tingly sensation etc.).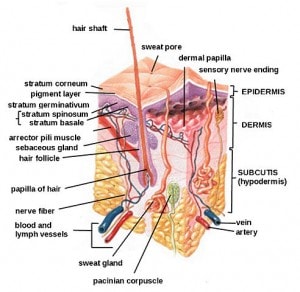 This magnificent organ consists of three layers that we can't miss talking about since each layer has vital parts. The outer most later is called the "epidermis." This is the part of your integumentary system that everybody can see. Take a quick moment and glance down at your hands for just a minute, even if nothing seems to be happening your epidermis is actually hard at work. Underneath your epidermis, new skin cells are forming. When these new cells are ready, in around 2 weeks, they start moving up towards your epidermis. As these new cells continue to rise and mature, old cells die and rise to the surface of the skin. The dead skin eventually flake off without us even noticing it.
A little unknown fact about our dead skin cells, every minute of every single day we lose an estimate of 30,000 to 40,000 dead skin cells. Imagine, in the couple minutes that you took reading this article, you've lost around 40,000 to 100,000 dead skin cells and you never even noticed it. It is normal to shed a few thousand dead skin cells daily, but there are conditions that cause the skin cells to produce and shed faster than the normal.
A very important component of this system is a substance called, "melanin." This substance gives our skin color. The lighter your skin is, the less melanin you have and vice versa. Melanin also protects your skin from harmful UV (ultraviolet) rays from the sun's exposure. Although melanin acts as a natural sun protector, it isn't enough for it to actually protect our integumentary system 100% of the time. Sun screen and protective clothing is very much important to protect your skin from sun burns and other conditions from over exposure to the sun. Ailments usually begin when there is over or under exposure to the sun's rays or abnormalities happening within affecting melanin.
The next layer is the "dermis." This layer cannot be seen because it is under your epidermis. This structure of the skin contains elastin, collagen, nerve endings, sweat and oil glands and also blood vessels. The dermis works with your brain sending it signals to feel all sorts of the sensations that people can feel. Your brain then interprets what exactly you're touching and if it's cold, warm, spikey, smooth etc. The nerve endings in your body interpret pain also. So whenever you touch a burning coffee pot, your brain sends out the message that you're touching something that it hot. It basically protects your body from harming itself thanks to your nerve endings sending out sensation signals. Your dermis also contains tiny blood vessels that serve as a source for bringing your skin oxygen and nutrients also taking away unwanted waste.
Oil glands are also within the dermis layer. These glands produce a substance called, "sebum" which is your skin system's natural oil. It acts as lubrication for your skin. Sweat glands are also a vital part of your dermis layer. You may not feel it but your skin actually does sweat a little all the time, just not excessive. The sweat comes out through your pores which act like escape routes. We sweat at an average amount, not too much and not too little. When there is a minimal amount or an excess that is when sweat conditions arise.
The third and last layer is called, "subcutaneous fat." As it implies, it contains mostly fat and acts as a temperature regulator in the body and is also a shock absorber. You'll find hair in this layer. All hairs on our body grow out of a tiny tube called a "follicle." Each of these follicles has roots all the way down to the subcutaneous layer and continues up to the dermis. Did you know that there are tiny hair follicles all over your body except on your lips, on the palms of your hands and on the soles of your feet? Indeed so.
With this easy to understand, quite short summary about our integumentary system and its functions and layers, what can we conclude?
Hygiene and a balance are the key factors needed to maintain the integrity and normality of this system. With improper hygiene integumentary system ailments usually arises. There are conditions that could begin such as funguses on different parts of the body, head lice, ringworm, impetigo, athlete's foot and many more.
Some ailments involving the integumentary system could be resolved with natural remedies that you could try out. A balance in lifestyle or sometimes over and under secretion of certain chemicals in the body can also cause ailments to your external body such as acne, body odor, psoriasis, hyperpigmentation, excessive sweating and other countless conditions. While some ailments can be prevented others could develop unexpectedly even with good personal hygiene. That is the reason why it is vital for taking care of our integumentary system at all times. Remembering the basics of good personal hygiene, eating a balanced diet and staying away from factors that could affect our integumentary system.